INTERNATIONAL AND NATIONAL PROJECTS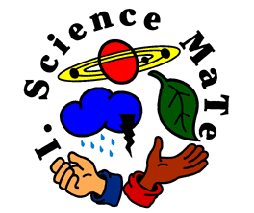 I. SCIENCE MATE CURRICULUM
The Integrating Science, Math, and Technology curriculum and program allows an entire elementary (K-6) school to become involved with science. For 34 weeks a teacher is instructed on how to set up three activities per week. The I. Science MaTe curriculum is an integration of science and math, that requires cooperation of teachers, administrators, and parents at a school site. A junior high (7-8) program provides two hands-on labs per week for a semester of Biological Sciences, Earth Sciences, Physical Sciences, and Human Biology/Health.
Real science for teachers provides our children with the most up-to-date science content and math instructional techniques. Materials are currently free on the web as Acrobat PDF files.
USING TECHNOLOGY TO INCREASE SCIENCE AND MATH SKILLS
Math/Science Nucleus is currently testing how new computer technologies and the Internet can enhance the teaching of science and math.
INTERNATIONAL SCIENCE AND TECHNOLOGY PROJECT
A new technology project that has American students assisting students in Eritrea, Africa.
CATHERINE RAIA MINI SCHOLAR PROGRAM
This essay competition is open to graduating elementary school students from select New York area schools. The program consists of a literary competition where students express their feelings on "Why Science Is Important" in their lives.

K-8 SCIENCE AND MATH CLASSES
MS Nucleus facility has a model classroom that illustrates how to store and use science and math materials. School field trips and after school classes are conducted.
TEACHER WORKSHOPS
Math/Science Nucleus staff conducts workshops and seminars for teachers of all levels. Workshops are hands-on and provide instructions on how to effectively teach students through learning science content. Classroom management is also emphasized. The workshops and seminars are conducted at the MS Nucleus facility in Fremont, California or at school or district sites in any part of the country.
WATERSHED STUDIES
Scientists, naturalists, and other mentors work with students in the Laguna and Alameda Creek watersheds in the eastern portion of the San Francisco Bay. Local groups, government, private, and other non profits participate with MS Nucleus to work with students to collect watershed data, and perform meaningful, real science.
MATERIALS
The Math/Science Nucleus supplies low cost, quality science materials to individuals and schools. A showroom of science materials is maintained at the Fremont facility and is open to the public. Custom science and math "trunks" are available. Please call for more information.
INDUSTRY
The Math/Science Nucleus (MSN) was founded to assist educators and administrators in getting "cutting edge" science into schools. Since 1982, MS Nucleus has worked with schools and industry in developing partnerships that benefit children directly.