MONITORING EQUIPMENT
Below are some of the tools available through our program. Equipment is very important in restoration projects. They can help you determine if restoration is successful.
BIOLOGICAL
SEINE NET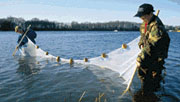 This 4' high, 12' long, ¼" mesh, 36 lb.heavy duty white nylon net includes a weighted bottom line and buoyed top line. The net is designed to collect aquatic organisms inhabiting natural waters from the shoreline to 3' depths. This heavy duty seine net is the perfect sampling tool for fish surveys and educational purposes.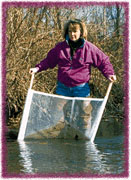 KICK NET
This 1 x 1 meter square, 500 micron, white mesh net is designed to meet the requirements of groups performing USEPA Rapid Bioassessment Protocols for benthic invertebrates. Features hemmed sides for poles and reinforced bottom seam for anchoring.


PLANKTON NET
Cone-shaped nets of 10 mesh, 153 micron nylon cloth. Minute plankton are collected and can be observed in the removable, clear conical graduated tube attached at
the end of the net. Two tubes are provided. The net mouth
is braced by a sturdy stainless steel ring and harness.


WATER QUALITY
(CHEMICAL AND PHYSICAL PROPERTIES)

SECCHI DISKS


Used to determine turbidity or degree of visibility in natural waters. The weighted 20 cm diameter disk has a braided stretch-resistant line that is marked every half meter and at every meter up to 20 meters.

ARMORED THERMOMETER
A precision, NON-MERCURY thermometer, furnished in a protective plastic jacket with window opening. Engraved graduations on white tubing increase readability over the full range of –5° to 45°C in 0.5° increments.

Collects samples representative of

specific depths. Ideal for the collection of dissolved oxygen samples. Simply lower to sampling depth, when trip line is pulled, dissolved oxygen sample bottle will begin filling, overflowing and flushing more than 3 times to insure a representative sample. During retrieval, decreasing water pressure prevents exchange of air and water with sample. Excess water in sample chamber can be used for additional tests such as pH. Interior chamber accommodates our Model 545 armored thermometer (not included) for accurate sample temperature readings. Use with braided line and weight.



WATER SAMPLER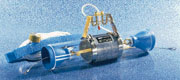 A one-liter sampler of clear acrylic furnished with a 20 meter calibrated line and a lead collar which assures rapid descent and minimal drift. A brass messenger triggers a release mechanism to seal the sample chamber with two fitted rubber plungers at the desired sampling depth. The built-in side outlet and flexible tube allows for removal of the water sample.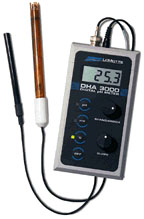 DIGITAL pH METER
A compact meter that satisfies the accuracy requirements of today's technical laboratory as well as field applications. Bold LCD readout provides pH readings.

DISSOLVED OXYGEN METER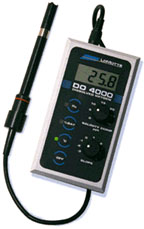 Portable hand-held dissolved oxygen meter designed to provide measurements for the most critical water quality parameter. Digital readout provides mg/L, % saturation, and rature readings by selecting a mode. Features automatic temperature compensation (ATC) for mg/L and % saturation; salinity compensation is manual by direct dial. Meter comes packaged in a convenient carrying case with replacement membrane cartridge, membranes, electrolyte, and protective probe storage sheath.

TEMPERATURE LOGGER (HOBO)



A data logger is an electronic instrument that records measurements (temperature, relative humidity, light intensity, on/off, open/closed, voltage, pressure and events) over time. Typically, data loggers are small, battery-powered devices that are equipped with a microprocessor, data storage and sensor. Most data loggers utilize turn-key software on a personal computer to initiate the logger and view the collected data.

TEST KITS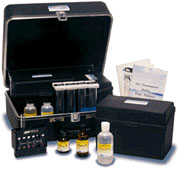 Test kits use different chemical methods to determine pH, heavy metals, dissolved oxygen, nitrates, and phosphates.

SEDIMENT AND SOIL
BOTTOM SAMPLING DREDGE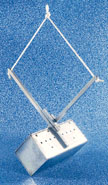 Stainless steel sampler is designed for use on soft bottoms (sand or silt). A simple trigger holds the sampler open while lowering to cover a uniform area. Scissor design closes sampler, retrieving a volume of sediment to the surface for analysis.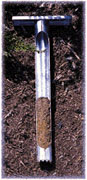 A 12" galvanized steel sampler with a 1" core diameter, saw-toothed tip, and cut-away side for examination of core prior to removal for testing.