Pruning Tools

Hand pruners
Use: Used to prune small (less than 3/4"diameter) branches. Great for jobs where the branch to cut is near your torso like for vines.
How to use: Hold the branch with one hand and with the other place the cutting end near the base of the branch and cut by squeezing the handles together.
Care: Clean after each cut to reduce dulling of the blade. Wipe with a cloth to remove plant sap. Do not try to cut larger branches.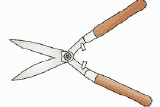 Hedge shears
Use: Used to trim and shape bushes with young branches (less than ¼" diameter). Use quick motion to trim.
How to use: grip the handles firmly with both hands and then close like scissors while trimming only the tips of the plants branches. Open and repeat as necessary.
Care: Not for use on larger branches clean blades with cloth after each cut.

Loppers
Use: Used to prune small –medium branches off the trunk of a tree or shrub. Branches absolutely NO LARGER than 1.5". Larger branches can cause the loppers to break at the cutting area
How to Use: grip the handles firmly with both hands, pull the handles apart and place around the branch to cut, close and the branch should nicely cut. If the branch is not cutting easily do not force it move on to a saw.
Care: wipe clean after each cut and store closed for safety purposes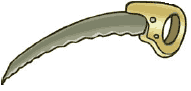 Pruning Saw
Use: This usually has a curved blade and is used to prune larger branches in tight spots.
How to use: Make a cut under the branch about 3" away from the trunk of the tree about 1/4th the way through and then make a second cut, closer to the trunk, from the top of the branch all the way through. This saw usually cuts on the pull stroke and is easier to use.
Care: wipe clean after each use and store covered in a sheath to prevent injury.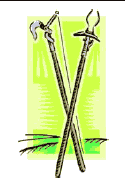 Pole Saw
Use: Used to prune branches that are high on the tree. The saw is on the top and a string helps to cut the branch.
How to use: Place the pole saw on the branch to cut. Make sure no one is in the way before cutting. Then use the string and pull until the branch is loose and remove the trimmed branch.
Care: Use extreme caution, eye and head protection when using this tool.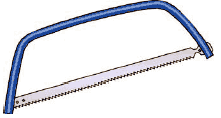 Bow Saw
Use: This is usually for large branches that are too large for a pruning saw.
How to Use: Use where there is enough room for movement so that the tree is not damaged. Cut back and forth holding on to the bow and not the blade.
Care: wipe blade clean after each use, if blade is dull ask for a replacement.