Science and Environmental Interns is a high school program sponsored by the Math Science Nucleus and funded by Lam Research Foundation and Alameda County Flood control and Water Conservation District. Students learn the science behind the environment and they actually get to work on restoration projects. Projects have included Masonic Home Reforestation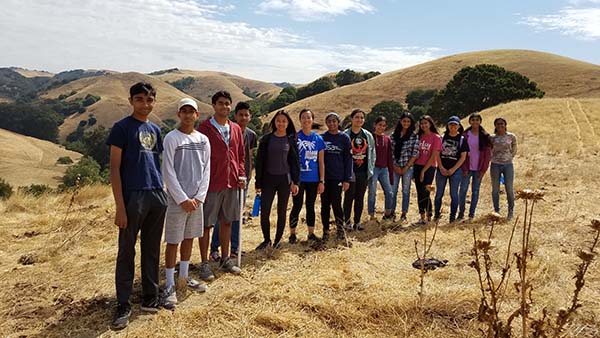 Project, Mission Creek, Irvington Creek, California Nursery Historical Park, and Tule Ponds at Tyson Lagoon. Students will learn how to get other students at their high schools involved with local restoration projects. Each summer our focus changes. This internship is free to students who are selected. Students on the right are interns on a field trip to Masonic Home Reforestation Project. Summer 2023 will include more basic concepts in geology, chemistry and biology.
Overview of Program: Interns will learn about environmental issues in the Tri-City area of Fremont, Union City and Newark. They learn how to the analyze water for nutrients and elements using probes and spectrophotometers. They learn about soil, composting, and importance in restoration. They learn different t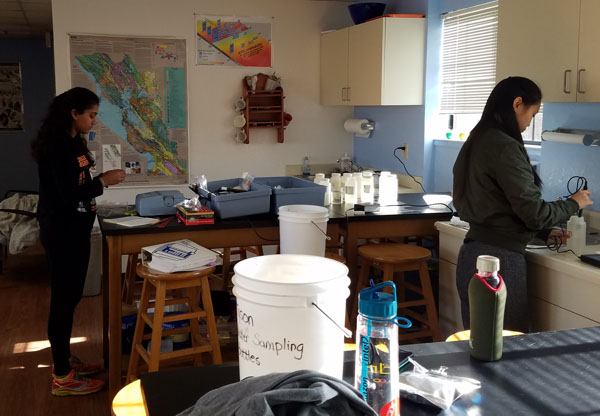 echniques of restoration especially on what tools to use. Students will learn about how microorganisms can help determine the health of environment, and many other environmental parameters include how humans have changed their environment. Each day will blend lecture and outdoor experience.

Tule Ponds at Tyson Lagoon will be used for basic training on spectrophotometers (chemical analysis); ecology, and methods of restoration. We will also do work at California Nursery Historical Park learning about native and non-native trees and how to take care. We will also do work at Masonic Home taking care of the trees and learn about larger scale composting and reforestation. We also will have an opportunity to look at several other sites. Scientific illustration techniques will also be a component of this year's training. If students may continue with projects during the 2019-20 school years.
This internship is meant for students who are serious about science and applying their knowledge to solve problems.
After training students are eligible to continue with research projects with a stipend of $500.00 from August to January. Then 2 will be selected to work on 2 major events in TriCity area to learn how to communicate science to general public. Might be a Science Night at the Library or an Environmental Open House at Tule Ponds.
2023-24 Intern Program
2022-23 Intern Program
2021-22 Intern Program
2020-21 Intern Program
2019-20 Intern program
2018-19 intern program
Are you still interested?

please email
blueford@msnucleus.org
About the Intern Program
Lam Research Corporation is funding this program so students can explore different fields of science in a lab or outdoor experience. This is tailored for sophomore to senior high school students. If you have any questions, please contact Dr. Joyce Blueford at blueford@msnucleus.org.
About Lam Research
Lam Research Corporation has been a major supplier of wafer fabrication equipment and services to the worldwide semiconductor industry for more than 30 years. As the industry transitions from business computer-based applications to feature-rich consumer products, chipmakers are challenged to mass produce highly sophisticated devices. To keep pace and meet demanding production requirements, semiconductor manufacturers will need to invest in highly versatile and reliable wafer fabrication equipment. As the market leader in plasma etch and a leading supplier of single-wafer clean products, Lam Research strives to consistently deliver the technical capability and cost-effective performance our customers require. With corporate headquarters located in Fremont, California, the Company maintains a network of facilities throughout North America, Europe, and Asia to meet the complex and changing needs of its global customer base.