George C. Roeding Jr (1902-1995) was born in Fresno, California and grew up in the three story mansion built by his grandfather Frederick Roeding centered in the Fancher Creek Nursery property. He worked at Fancher Creek from as a youth but stated working during the summers at California Nursery starting in 1914, before his father bought the property in 1917. Roeding Jr. was a quick study and his father made him manager of the Niles Nursery in 1925. Roeding Jr. took over control of California Nursery's statewide network of nurseries and retail outlets upon his father's death in 1928. (1)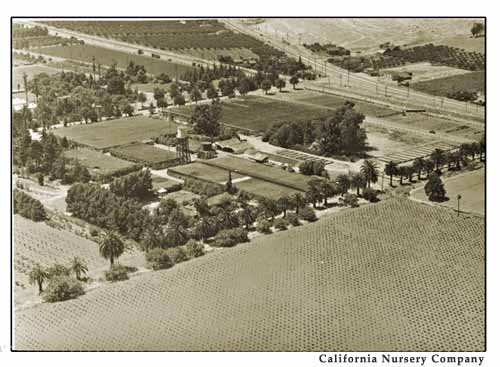 George C. Roeding Jr. was a brilliant and outgoing salesman. He saw the nursery market changing with the growing California population and redirected the business focus to retail sales rather when wholesale sales to large orchards and nurseries. While keeping a solid basis of fruit trees in his catalogs, he expanded the ornamental production with a particular emphasis on numerous varieties of roses. California Nursery became a key producer of rose plants for the entire United States, producing 1.5 million rose plants annually. Indeed, whole sections of the Nursery in Niles were devoted to rose production where they were continually developing new varieties of roses. (1)
Like his father before him, George Roeding Jr. work with the plant scientists to obtain new varieties. In 1940, he arranged to work with Albert Etter (1872-1950), who like Luther Burbank, was amazingly creative in this cross-polinization and hybridization attempts to make new plant varieties. One of Etter's specialties was apples. He turned over 40 of his apple varieties to Roeding to test in the CNC orchards. Of the 40, Roeding Jr. decided that seven were worth patenting and selling due to their quality and flavor. These seven Etter apple varieties first appeared in the 1944-45 California Nursery catalog. (2)
At first the nursery was mostly wholesale, then became a retail operation, ultimately becoming the largest firm of its kind west of the Rockies.
Part of California Nursery Company's reputation had always been built on high quality product. George C. Roeding Jr. continued and increased this process, insisting that his trees and plants be assessed not only on height, but graded on quality and viability as well. In the 1930s, he was able to get a Grades and Standards Law for trees passed in California, incorporating his methodology (1)
Landscape design projects grew under Roeding Jr., especially in the 1930s and 1940s. Throughout this period, the nursery had 8 design crews of 2-6 men each including a separate office downtown Oakland. CNC would design, provide and install the plants for businesses and large mansions but had predesigned layouts of designs for small homes to take advantage of the ever increasing suburban market for home gardens. (1, 3)
Part of the salesmanship acumen of Roeding Jr. was turning the California Nursery Company in Niles into a destination point for people to travel to. To that end, various types of display gardens were built especially near the office and around the "Old Adobe" and ads were put out showing the various activities to do while at the nursery. The adobe was such a draw that it was transformed into a tea house for visitors to enjoy while making their purchases. Geroge Jr. hired famed landscape designers father and son team Johannes and Frederic Reimers for this purpose. The Reimers also redesigned the nursery retail yard.
In order to get large numbers of people to travel to the nursery, an annual bulb show was created. Starting in the 1930s and continuing for decades, the bulb show took place from mid-March to mid-April, displaying over 100,000 flowering bulbs each year. The nursery was known far and wide in the Bay Area and often became the destination for garden lovers and horticulturists. The event was extremely popular and over 5000 people a weekend would visit Niles from all over the Bay Area. To accommodate the many visitors, special trucks were equipped with long seats so that people could take tours of the flower displays, gardens and large nursery property and growing grounds.
THE OLD ADOBE AS TRADEMARK
It was during this period that the "Old Adobe" truly became the trademark of Niles Nursery Company. In Niles, the California Nursery office building was changed to have a tile roof and an adobe looking exterior which remains today. Retail offices in other cities also had an adobe look. And the adobe was not forgotten when the California Nursery participated in the World Fair on Treasure Island in 1939 to 1940. The Nursery not only provided extensive landscaping at the fair but also had its own display complete with a recreation of the hallmark "adobe".
LATER WAR EFFORTS
The California Nursery Company continued working with the US military under George Roeding Jr. The nursery provided the landscaping for Moffett Field, designed and maintained camouflage landscaping for the artillery depots in Benicia and provided topsoil and landscaping for the Alameda Airforce base. Bruce Roeding remembers the construction of the Alameda Airforce base was an urgent project during the early years of the war. The nursery had dump trucks running day and night to bring topsoil to load on the trains bound for Alameda. (1)
The Nursery also had business with the US State Department especially in the late 1940s and early 1950s with the development of the United Nations starting postwar in San Francisco (4). One of the biggest contracts (and one of which the family is still proud) was to provide large numbers of flowering dogwood trees as a gift from the United States to the country of South Korea.(1)
QUARRY BUSINESS
As the owner of one of the gravel pits (now Quarry Lakes Regional Park), he cooperated with the Alameda Co. Water District to allow fresh water percolation in the pit to help prevent salt water intrusion. Working with the local PG&E agent in Niles, they were able to erect the two "Niles" neon signs. He was mainly responsible for securing the first telephone dialing system in the area, and pushed for the first underground utilities in the Rancho Arroyo development in Fremont. He lobbied to upgrade the Niles Post Office to a first class status.After World War II there was a decreased need for large landscaping jobs and and increased need for building materials making it advantageous to open part of the nursery to quarrying. Starting in 1948 and continuing through the end of the 1960s, Roeding Jr. subleased area of the nursery to the south of the railroad tracks to various quarry companies. Eventually 90 acres of CNC property was being quarried and much of this quarried area forms part of the current quarry lakes park.(1)
INVOLVMENT IN COMMUNITY

George Jr. established the Central Chapter of the California Association of Nurserymen; was among 10 prominent Washington Township men to put up money to study the feasibility of establishing a new city; was appointed by Robert Gordon Sproul as a Director of the East Bay Regional Parks in 1962 to 1970. He was instrumental at having Del Valle and Shadow Cliffs added as parks. He had always wanted part of the nursery property in Niles to become a public park, a dream partially fulfilled by the Quarry Lakes park on the southern edge of the property. (1)George Roeding Jr also was one of the commissioners of Fremont's Parks and Recreation.

Over the years he contributed specimen trees and plant material to the City of Fremont, specifically many of the conifers at Central Park/Civic Center; he gave away hundreds of bare root fruit trees to the citizens of Fremont in the mid 1960s. He donated the rest area by the train station on Mission Blvd. in Niles to the State of California, which subsequently gave it to the City of Fremont.Roeding Jr. also was civic minded and interested in public parks and gardens. He was the director of the East Bay Regional Parks from 1962 to 1970 and
References
<![if !supportLists]> (1) <![endif]> Roeding Bruce, Personal communication, April to June 2013
<![if !supportLists]> (2) <![endif]> Etter website: http://www.greenmantlenursery.com/fruit/etter-apples.htm
<![if !supportLists]> (3) <![endif]> California Nursery Company layout designs
<![if !supportLists]> (4) <![endif]> United Nations History http://www.un.org/en/aboutun/history/