Ave of the Palms, California Nursery Weekend Tour
Dates: December 6, Sun, 12, Sat
Time: 1-2:30 pm
Location: Meet at California Nursery Office (building in back of Rose Garden)
Register online
$15 per person/ $12 per person (MSN member)
See the actual palms that traveled to SF in1914 and back in 1916. Learn about how the California Nursery was the center of growing trees and plants for all the west coast to enjoy. Tour will start at the California Nursery Company Office, walk through the Rose Garden toward the Vallejo Adobe. Participants will learn about 13 different palms that are in the park as we walk through the park. We will continue walking toward our own Ave of the Palms. T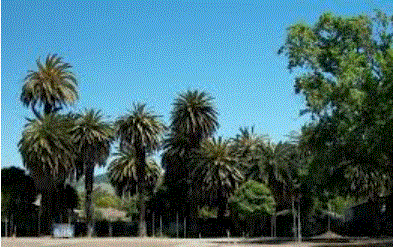 hese 20 palms are over 140 years old. John Rock started the palms in Wayne Station (now Milipitas) moved them to California Nursery in the late 1880's. Mr. Eberly, manager of the California Nursery in 1915, oversaw the movements of these palms to San Francisco by horse, rail and barge and then back after the Panama-Pacific International Exposition was over in December, 1915. This was an extraodinary feat, especially before there were any San Francisco Bay Estuary bridges.
Tours are $15.00 per person and includes a personal tour guide to go through the park. Includes viewing of our exhibit on the PPIE and California Nursery Company. Learn the biology of the palms and other trees that the California Nursery provided for the PPIE. All funds generated with go into the renovation of the park through efforts of the Math Science Nucleus, CalNurco and City of Fremont.
Spend a day visiting Historic Niles after your tour:
Niles Depot Museum - see artifacts of the trains that defined Niles and moved the large palms ($5 donation).
Niles Essanay Silent Film Museum - see the placed that Charlie Chaplin made famous
also have lunch at some of Niles colorful spots along Niles Blvd
http://niles.org