Designing and Building a Shade Platform for the Butterfly Meadow
by Sean Walter Fritz
Troop 120, Mission Peak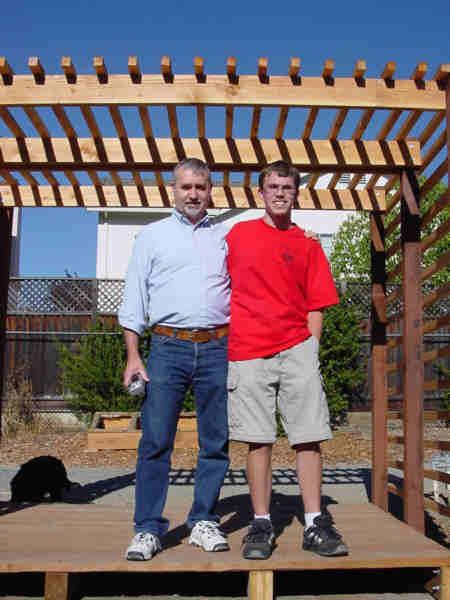 My project will took place at the back of the Tyson Lagoon at Station5. The site will be a butterfly meadow for native species of butterfly. The project consisted of building a desk by the road, a walkway down to the creek bed, and some landscape terracing for future planting.
The deck is 6 feet by 8 feet. A trellis was build over the deck for grapes or other vines. The deck will serve as a gathering place for children as they take their tour through the facility. The walkway connects the deck to the man-made creek bed. The ground slopes down toward the creek bed, so the walkway will incorporated some steps. From the walkway, the tour will be able to study the plant life.
A few terraces will be built off to one side of the walkway. These terraces will be planted with vegetation that will attract native butterflies. The planting process was not part of the project, but will allow other high school projects.
Union Pacific Railways donated the steps. Cresor Rents in Fremont donated the rental of equipment to complete the project.