Designing and Building Seven Benches for Work areas for Students
Neal Shah
Troop 176
The goal of my project was to build benches in a designated area at Tule Ponds at Tyson Lagoon in Fremont, California. The project required a lot of planning and labor, but it was all worth it in the end. This service project was designed to complete the fifth requirement of reaching the eagle rank. The materials that were used were hand sanders, metal frames, redwood, lag screws, self-tapping screws, concrete, power digger, and scrap lumber.
During the course of carrying out my project I found some major concepts in my plans that I found unnecessary. The first of which came up were the use of the router. After seeing the condition of the wood we recognized that we didnít need it since the sides are mainly already rounded off, and the sander could knock off the side if it had a sharp edge. Also in my plans the goal was to in the end make twelve benches. Unfortunately due to lack of donations, I was forced to propose a lesser amount of benches to be made. The design of the bench itself had no changes. The one minor change that occurred was because of weather conditions, the metal had begun to rust, instead of just priming the metal, we had to sand all the rust off.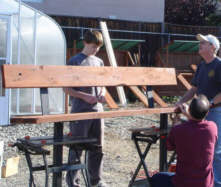 The bench frames were sanded, and painted, and the wood was also sanded and painted the same day. The next day, we dug out all the holes using the power digger, and we assembled the benches. They were assembled using the lag screws, and two frames per 3 pieces of lumber. As we placed the benches in the holes to dry with the concrete, we used the scrap lumber with the self tapping screws to hold the benches up.
The workers who helped make this project possible were scouts and friends including Derrick Floyd, Shrey Patel, Varun Sethi, Peter Galligan, Samyak Shah, Saagar Junani, Brandon Louie, Cory Louie, Kyle Quock, Rohun Patel, Adam Shawn, Luke Schlobolm, Ryan Raskop, Samuel Fendel, Joan-Pierre Guedon, Desmond Chee, Myion Chee, and Jacob Schlobolm. Adults who assisted included Mr. Shah, Mr. Latimar, Mr. Willis, Mr. Floyd, and Mrs Schlobolm.
Contributions were from Home Depot who donated lag screws, scrap lumber, self tapping sheetrock screws, Cresco Rents in Centerville donated the free rental of a power sander, router, and a power digger. Lumber Barren donated 21 pieces of redwood, Mr. Burnes donated free welding of metal frames and donation of metal frames, Dale Hardware donated sandpaper and concrete, and American Metal discounted metal for making the frames. The Math Science Nucleus provided $400.00 for the project.