Designing and Building Benches at Station I
Tule Ponds at Tyson Lagoon
by Greg Barton
Troop 449

My Project was building four benches to go at Station 1. My dad and I drew up the plans for the benches. It took about a month from start to finish to complete the project. The benches allow kids on field trips to sit and eat lunch while being able to see the ponds and wildlife better.

The project started off with a design. My dad and I drew up the plans on our own for the benches. Our plans are now the "unofficial" plans for benches at Tule Ponds. Next I had a prototype work day, where we built one bench to give
us an idea on what exactly was needed for each bench and how long it would take to build each bench. After that, we built the rest of the benches. We then had to dig the holes for the benches and mix the concrete. That was probably the hardest part and I am glad I had so many people there to help me. Finally, I had to cut the support posts <![if !vml]><![endif]>for the benches a little and bolt them in and paint them. That finished it up and I like how the benches turned out.

I would like to thank the following people who helped me: Dr. Joyce Blueford, Jarrett Mullen, Kevin Barton, John Barton, Gordon Mak, Jeff Doruff, Geoffrey Lam, Zackery Lam, Sean Sullinger, Andrew Agcoaili, Alex Agcoaili, Scott Seymour, John Prion, Greg O'Neil, Joseph Nelson, Bob Reynolds, Evan Reynolds, Ryan Reynolds, Paul Hillar, Jacob Hillar, Larry Seymour, Jerald Westendorf, and Harald Westendorf.
<![if !vml]>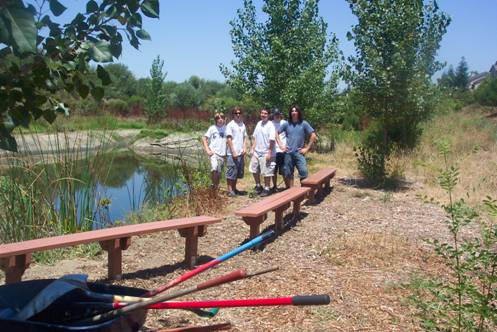 <![endif]>