Loop Trail with Stairs
to Pond C
by
Mahir Bhagat
Troop 153, Fremont
On June 22nd and 23rd, I successfully executed an Eagle Scout Service Project for Dr. Blueford at the Tule Ponds. I led a group of volunteers and the purpose of our task was to ensure the safety of young elementary school students who come to the site as part of their field trip.
| | |
| --- | --- |
| | |
| area before project | putting in stairs |
There was a certain section of the area which was adjacent to the main trail which was rather steep and infested with blackberry bushes. Following Dr. Blueford's request, we cleared the area by ridding it of any blackberry bushes and eliminating any miscellaneous foliage. Next, we dug into the soil before placing planks of compressed wood and then backfilling it with the soil. In addition, two pieces of rebar were installed into each piece of wood in order to keep it in place. This created the staircase which students can now safely walk down on towards the pond. After the staircase ended, we defined a loop trail that takes trekkers back onto the initial main trail. We added tanbark around the staircase on the ensuing trail in order to pad the walking area, and put gravel the area between the steps in order to accommodate imminent rainfall.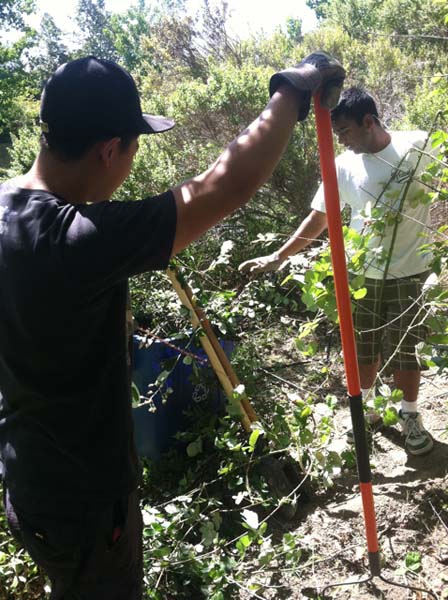 clearing the brush
All in all, we transformed an area that was cluttered and unsafe to walk through into a safe environment which will enrich the student's field trip experience and improve the site's overall beauty.
I would like to thank my volunteers: Ashwin Ganesh, Pulak Goyal, Viraj Reddy, Garrett Jee, Evan Dankiewicz, Zaki Sarwary, Jay Lee, Sid Badhra-Lobo, Sandro Greco, and Ken Ni. They all worked extremely hard and I appreciate them taking valuable time out of their day to help me with my project.
Also a special thanks to my parents Nilesh Bhagat and Yogini Bhagat who provided tremendous support and guidance along the way. They're a huge reason why I've remained persistent in my efforts to become an Eagle Scout.
To my scoutmaster Eric Havard and assistant scoutmaster Carl Chow for spending time to help review my project. To Gary Ely who motivated me to go through with the project and finish what I had started.
And last but not least, to Dr. Blueford for all the time she invested in helping make this project a success. I'd like to than everyone involved in the process who made this project possible. Honestly, I couldn't have done it without you.