Sign and landscaping in Butterfly Meadow
by
Jerry Lin
Troop , Fremont
For my Eagle Project, I created and installed a sign post surrounded by a log retaining wall. The sign was routed and is located in the Butterfly Meadow. I held multiple short workdays to paint the letters and apply multiple layers of varnish onto the sign, and then installed and built the log retaining wall around it on the last day at Tule Ponds.
| | |
| --- | --- |
| | |
| setting posts | securing sign |
I would like to thank Dale Hardware, McIvor's Ace Hardware, Hulbert Lumber, and Ghodspeed Woodcraft for donating and supplying the materials for this project.
I would like to thank the following scouts and adults for coming to the workdays to show their support: Hugh Smith, Sheng-Hao Huang, Evan Nusaputra, Jonathan Nguyen, Vineet Advani, Shrey Vasavada, Patrick Rivera, Steven Wilson, Viet Nguyen, Surrender Goli, and Di Hsu. I would also like to give a special thanks my counselor Mr. Wilson, who spent so much of his time to help guide me through this entire learning process, Dr. Blueford, who always gave me helpful feedback promptly, and my parents who supported me the whole time. This project could not have succeeded without everyone's help.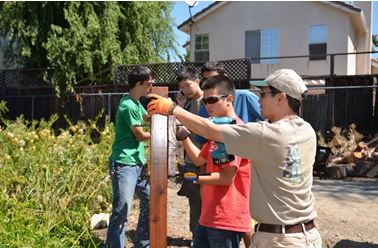 final touches to sign