Devising and Constructing a Solar Ecosystem
by Chris Ru
Troop 124, Fremont, California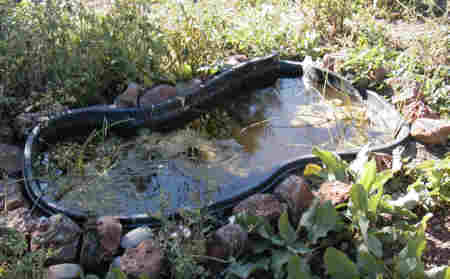 My Eagle Scout project is a construction of a Solar Ecosystem at Tule Ponds, Tyson Lagoon near the Fremont Bart Station. We built this Ecosystem to allow plants and animals of an ecological community to grow and live together in relationship to their developing environment. I hope this project may also help introduce new solar technology to children and the outside world. It may even teach them how an ecosystem works.
Originally, the Solar Ecosystem site was originally a single pond that had remained from a high school project. Although this pond was still filled with fish and plants, not much oxygen remained in the water as algae continued to grow on the surface of the pond. Around the pond there are some loosely placed rocks and a ground covered with grass, shrubs, weeds, and small flowering plants.
| | |
| --- | --- |
| | |
| | |
First, we cleared and cleaned the area of algae and weeds. We removed all the dirty water and cleared away the weeds and small shrubs growing around the pond. Second, we dug the pond deeper and wider; we laid rocks around the area to create a foundation so that it produced a natural scenery. Third, we added an extension to the pond including a waterfall that cascades. Dr. Blueford suggested that I create some kind of solar system involved in this project, so I devised some method of movement in the water to bring more oxygen into the pond. To do this, we installed a pumping system to pump more water from the original pond into the pond extension to help oxygen circulate to allow fish and plants to grow. With some assistance from my father, we installed a solar system, which would provide the pumping system with electricity.
The project required extensive planning, labor, communication, and leadership skills. I feel that I have learned and understood a lot from this project such as how to manage money and time and how to work together as a team. Many of the helpers worked very hard in this project. Even I had fun constructing the project. Besides those skills, I learned about the benefits of an ecosystem and its uses, what a solar system is, environmental science, engineering, etc. These skills may help me to build a solar ecosystem again in the future. In the end, this project created a Solar Ecological Environment to help plants and animals in improving their growth and living.
Acknowledgements
I would like to thank the Scouts of Troop 124: Jeff Chang, Andrew Cheng, Samuel Lai, Matthew Wilson, and Zach Wilson, for helping me in this project. Also, Benjamin Chen, Troop 5 Scout of Palo Alto, and his parents, Bob Chen and Stella Chen, helped me a lot in the engineering process of leveling the pond and cementing the Solar Panel Pole.
I would also like to give additional thanks to Lowe's for giving me a 10% discount, Home Depot for giving me a $25 gift card, and Navlets for giving me a $20 discount.
I would like to give special thanks to Dr. Blueford who gave me many suggestions and ideas, Mr. Strommen who helped me a lot in my revision process of my Eagle Scout Packet, and Mr. Kiehl who helped encourage me to keep up with the good work.
Great amounts of loving thanks should be given to family. My mom, Diana Ru, gave me a lot of encouragements and ideas. My father, Bob Ru, gave me good gardening and engineering tips. And my sister helped me in the revision process of my write-up. My parents helped give my workers rides, supplied the snacks and drinks, and assisted in my project.