Mission Creek Clean-up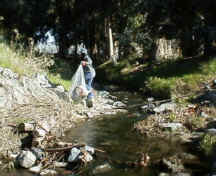 Mission Creek is a historic perennial creek that runs from above St. Joseph's Church to Lake Elizabeth. One of the most prominent portions of this creek is located between Palm Ave and Driscoll Rd. Saturday February 2, 2002 fourteen students from Mission High's Green Club helped remove litter and debris from the creek area. From 1-4pm these students braved some of the steep terrain of the creek bed to remove litter that was both in the creek and on the slope of the creek bed. Working at a pace that removed the litter rapidly these students noticed the changing shape of the creek and the effects of human manipulation on the creek bed. When all was complete over 150 pounds of litter had been removed from the creek bed and surrounding paths.
The students who participated are: Ricky Chan, Catherine Chu, Chen Chen Fan, Mark Festini, Rosanna Gan, Stephanie Gan, Kathy Huang, Victoria Huang, Lisa Huang, Kevin Kitterman, Iris Mandeville, Elizabeth Patrician, Clark Pennelly, and Peter Wu.