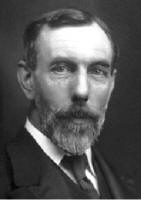 Sir William Ramsey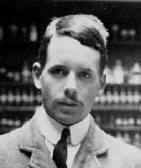 Henry Moseley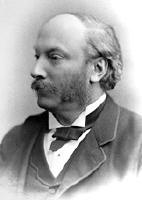 Lord Rayleigh
In 1895 Lord Rayleigh (John W. Strutt) (1842-1919) was co-discoverer with Sir William Ramsey (1852-1916) of a new gaseous element called argon. Argon did not fit into the periodic chart because it chemically did not react with other elements. Sir Ramsey discovered the remaining "Noble Gases" including neon, krypton, and xenon. He also isolated helium in the Earth's atmosphere. He was awarded the Nobel Prize in chemistry (1904) for the discovery of inert gases and how they fit in the periodic table.
Ernest Rutherford, a renowned nuclear physicist working on charged particles in the early 1900's. Building on Rutherford's work, A. van den Broek in 1911 proposed that the atomic weight of an element was basically equal to the charge on an atom. This was later given the name of the "atomic number." Then Henry Moseley (1887-1915), a British physicist developed a way to use x-rays to study the atomic structure. In 1913 he discovered a relationship of the x-ray's wavelengths with the number of protons. He also recognized that the atomic number (number of protons) was more reliable in ordering the elements in the periodic tables. He arranged the new table with increasing atomic number, which allowed a more predictive quality of the periodic table than ranking them by atomic weight.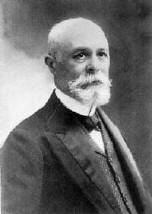 Antoine Becquerel
Antoine Henri Becquerel (1852-1908), using x-rays developed by Wilhelm Conrad Roentgen (1845-1923), discovered radioactivity in 1896. Using some uranium Becquerel noticed that there was a spontaneous emission of radiation, which he concluded must consist of charged particles. Experiments with charged particles allowed scientists to design research projects that began the intellectual journey to determine how elements work.