LOCATION
40204 Paseo Padre Parkway, Fremont
Start of Field trip is in the back of the Community Center facing Lake Elizabeth.
Only open through registration or appointment.
Directions: 40204 Paseo Padre Pkwy, Fremont
From 880: take Stevenson Exit (East) go about 3 miles to Paseo Padre and make a right. At the second light (Mission View, make a left). Community Center is in front, exhibit is in the back of building
From 680: Take Mission Blvd (Hayward), make right on Mission, go to Driscoll Blvd, make a left; go to Paseo Padre, make a right, go to Mission View, make a right into Community Center, exhibit in back of center
From Fremont BART Station: walk along Civic Center (south) and walk into Central Park

Map below is overview of the Hayward Fault in central part of Fremont. This field trip is only will look at "2" area.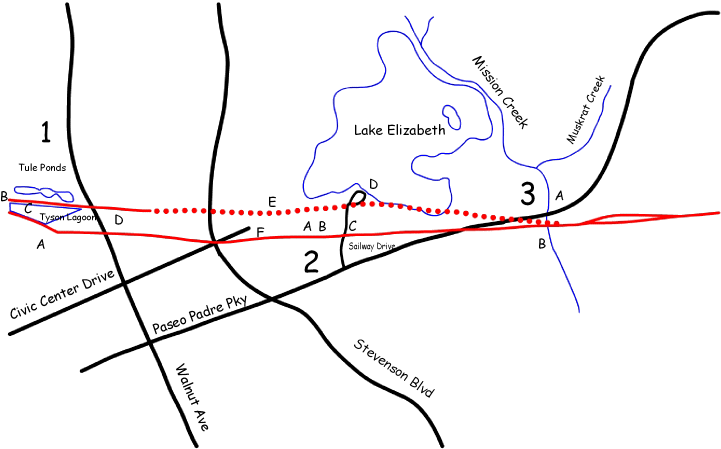 1. Tule Ponds at Tyson Lagoon
A. Uplift near BART Trail, walk on trace of Hayward Fault
B. Two traces of Hayward Fault meet
C. Walk on the second trace of Hayward Fault
D. Depression due to Hayward Fault, area where trenching has occurred to record Hayward Fault over last 2000 years
2. Fremont Earthquake Exhibit
A. Hayward Fault Trench (subsurface evidence of movement - now closed)
B. Cracks and patterns in Parking Lot
C. Curb offset on Sailway Drive
D. View of Lake Elizabeth, human –made lake, expansion of sag pond
E. Second trace of Hayward Fault, notice uplift (stairs)
F. Knoll caused by compression
3. Stivers Lagoon
A. Stivers Lagoon Nature Center, depression area
B. Compression ridge caused by Hayward Fault