Would you like to be part of a unique project in the East Bay Hills. We have several needs for possible Eagle Scout or Gold Award Projects at the Masonic Home. Would you like like to learn more about 2 possbilities. One is helping residents with their "Flying Club" in creating a stand for residents to view and to stay out of the elements and the other one is to help with tree planting and trail creation in a one of kind reforestation project in Union City. What is so unique about the project is that it uses food waste incorporated with horse manure and wood chips to create soil that can once again support a forest. As the project progressed residents realized that this area, which has a view of the entire bay area was ideal for activities especially flying. Meeting will be on September 29, 2018 at the Masonic Home from 9:30-11:00 and meet at the restoration site. If interested please register and we will send you directions of where to meet and provide a parking permit which you can show to the guard as you enter the facility.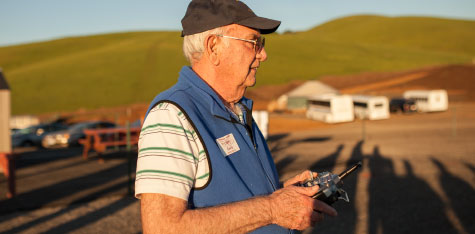 The Masonic Home Flying Club is located in Union City, CA. The club has been an AMA Chartered Club since November 5, 2014. The Masonic Home Flying Club is a group of eight retired seniors passionate about model flying. They have started a community outreach program and are currently reach out to local schools and various youth groups. The club is a brand new club and is currently looking to increase membership with individuals who are interested in the hobby of model aviation. To accomplish this, the club offers to buy the youths' trainer plane and accessories and teach them how to fly.

The club wanted to improve their site by fixing the old runway. The old runway was unpaved and located on a hill. The home administration paid for the work and the money from this grant will go towards repaying them. The total cost of the project was
The Home's Flying Club, which has about two dozen members, meets between 8:00 and 10:00 each morning to hone their model airplane and drone flying skills at the on-site landing strip. Officially dedicated in February, the strip is 100 feet long and made of asphalt and cement. A 30-foot carpeted extension is in progress.

"We have people flying there six to seven days a week weather permitting," says Jack McClellan, one of the Home's novice pilots. Several residents have learned to fly since the airstrip was created. The Club has a flight simulator and two model planes that can be borrowed by those looking to hone their skills before purchasing their own aircraft.
McClellan bought his plane in April and started flying in May. Since then, he has completed about 140 flights. He describes his plane as "an overgrown Cessna." Specially designed for those new to flying, it can operate in three ability-based modes and has a panic switch that stabilizes the plan if the pilot loses control. (All Club members join the Academy of Model Aeronautics, which provides educational resources, as well as a liability policy in case a plane hits a person or property.)
A highlight of the Club for McClellan is getting to fly his model aircraft alongside seasoned pilots of commercial and military planes. Jack Wright flew with the Blue Angles. Dick Sullivan was an Air Force pilot who flew B-25s. "They tell me that it's harder to fly a remote control plane than a conventional one," McClellan says. "When you're landing, the model plane comes straight at you – it's not like sitting in an aircraft."
All Masons – in addition to Masonic Homes residents – are invited to join the Club or to just stop by to give flying a try. The Club includes several off-campus members, including one from San Jose who just completed his third degree. Members are hopeful that by the spring they'll have more experienced pilots to serve as instructors so that they can invite Masonic youth to campus to experience the delight of flying.
"I get a real sense of accomplishment," says McClellan. "It's not easy to take off and land perfectly every time. The first time I flew it was kind of scary – I even had shaky knees. But I kept trying. I's really fun to fly."